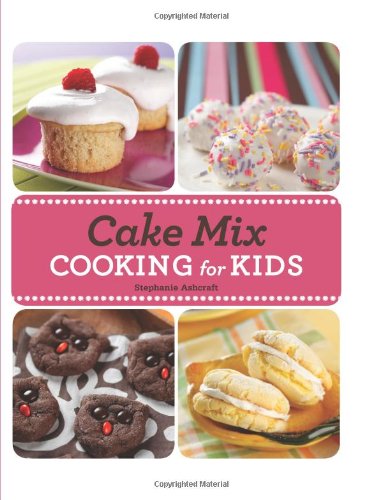 Mix up some fun!
Bring your kids into the kitchen, and bake up some memories
Tucson, AZ -- June 2011 – New York Times best-selling cookbook author Stephanie Ashcraft's latest book,
Cake Mix Cooking for Kids
(Gibbs Smith, $14.99, Spiral bound, ISBN: 978-1-4236-1917-8, August, 2011) helps families share in the joy of baking goodies – together!
A cake mix is the basic ingredient for these delicious recipes, but cake isn't the only thing kids will learn to make. Give Black Owl Cookies, Candy Cookie Pops, Bubblegum Bars, or Fruity Pizzas a try. Or, if you really want to be creative, bake some Mini Cupcake Kabobs, Delicious Cake Balls, or Tangy and Twisted Trifle. These recipes are a fun and easy way for kids to enjoy time in the kitchen.
These fun-themed recipes are simple enough for kids to make (with adult supervision), and provide step-by-step instructions that are easy to follow for even a novice chef. Once kids try their hand at baking, maybe they will even help cook dinner!
Stephanie Ashcraft, author of 101 Things to do with a Cake Mix, along with fifteen other culinary offerings, has taught cooking classes based on the tips and meals in her cookbooks for more than 20 years. Cake Mix Cooking for Kids is just one of three books that she is releasing this Fall. Stephanie and her family live in Tucson, Arizona.
For more than 40 years, Gibbs Smith has been specializing in beautifully illustrated lifestyle books covering topics such as interior design, architecture, cooking, children's, home, green/sustainable, and many others.