More Christmas deals from
Pinching Your Pennies
. Check out their website for more deals!
HOT! Coaster/plasma cars IN STOCK at Overstock.com. $42.99 + $1 shipping!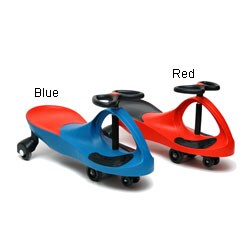 Rolling Coaster Children's Ride-on Car
Today: $42.99
Red or blue available
Shipping is $1 for your entire order!

Overstock.com LINK

Search for Coaster Car
I bought one of these from Overstock last year and my kids still play with it all the time!

These get great reviews! Many PYP members bought them last year and rave about them.

* Rolling Coaster car provides hours of safe, quiet fun for children and adults alike
* No pedals, gears, or batteries required; propelled simply by turning steering wheel
* Car provides great combination of exercise and fun
* Maximum speed of 5 mph
* Aerodynamic racecar design
* High quality ABS plastic construction and CE certification to guarantee safety
* Weight capacity of 200 pounds on smooth surfaces and 130 pounds on rough, flat surfaces
* Available in racecar red and bullet blue color options.
* Manufacturer's Suggested Age Range: (2) and up
Digital Blue Batman Boom Box $20 shipped! List $40
I just ordered this one for my 6 year old who is the biggest Batman fan. Now he can listen to his kid cds with something other than my boom box. :-)
Thanks, PYPs!

Digital Blue BA10004 Batman Radio/CD Player Boombox - BA10004
Digital Blue Batman Boom Box
Buy.com Sku: 208294635
List Price: $39.99
You Save: (50%) $20.00
Our Price: $19.99
Shipping: FREE
Buy.com Total Price: $19.99

Buy.com LINK
Baby Alive Doll $13.99 w/free shipping!

Was $34.99
Now $21.99
Use codes TC9NOV17 ($8 OFF)
Final price: $13.99 + tax!

Target.com Link

Search for Baby Alive Whoopsie
Extra 30% off entire order @ Aeropostale.com or P.S.
Aeropostale Friends and Family

Code:
Take extra 30% off FFNOV - exp 11/22/09

Free Shipping when spend $100+. No code required. Valid thru 12/20/09.

Aeropostale.com LINK

or

P.S. from Aeropostale.com LINK



Girls Regular Fit Skinny Leg Jean
Was $29.50
Now $16.99
After code $11.89
Extra 25% off one item @ SportsAuthority.com
Code:
Extra 25% off one item (some exclusions apply)
TSA25FF
- exp 11/22/09
SportsAuthority.com LINK
Phantom Force Chess $65 shipped! List $200

Phantom Force Chess
$64.99
List: $199.99
Save: $135.00 (68%)
Free Shipping!

Target Deal of the Day LINK
Extra 15% off + Free Ship on any order @ Crocs.com ~ NFL/MLB/NCAA Crocs $8.49!
Code:
Extra 15% off + Free Shipping on order with code: secondchance - exp UNKNOWN

Crocs.com LINK
Denver Broncos Beach
Reg $34.00
Now $9.99
*$8.49 shipped after code
Professor
Reg $30.00
Now $9.99
*$8.49 shipped after code
Lowers
Reg $55.00
Now $19.99
*$16.99 shipped after code