Wow! What a day! I enjoyed my day cashing in on all the great coupons that were piling on my desk.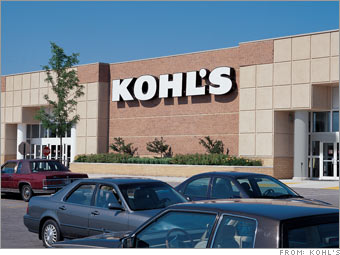 I went to Kohl's and picked up 2 pairs of sunglasses,
vinyl
lettering for one of my walls, a purse for Lizzie, a bra, 3 shirts for Devan, a pair of capris, and 3 cute skirts for $68.35 (using the 15% off coupon the sent in the mail). I saved $262.76. They gave me $10 Kohl's cash to use next week! You get $10 for every $50 spent right now. They have clearance marked 60-80% off.
I also hit Bath & Body Works in the Foothills Mall. I used 2 coupons. I took advantage of the 7 for $20 hand liquid soap sale. I paired the soap with the aromatherapy coupon to get a $13 lotion for free! Total for all 8 items 21.22! They have the True Blue Naked Lotion and Body Wash on 75% clearance. I bought 3 and used my coupon for a free Signature product. I got a $12 bubble bath! Total was11.94 for all 4 items! I'm stocked up for a little while!
Click here
to print your own coupons. Expires 8/23 and 8/27!
JcPenney's mailed me a $10 off a $25 purchase coupon that expires on 8/22. I decided to go see what they had going at their store. They are having a huge 75% off original price clearance sale. I was able to pick up a beautiful purse for me (Orig. $48) and a cute pair of sterling sliver earrings for a total of $17.29 after the coupon. I saved $60.01!
Other Deals that I noticed while I was out and about!
Haggar in the Foothills mall is having a huge clearance sale. Up to 70% off! It looked like you could get men's nice work pants for 12.99. I may have to send my husband to check that one out.
I noticed that Children's Place at the Foothills Mall has marked down their clearance to 2.99 and under!
I walked through Kirkland's Home at the Foothills Mall on the way to the car! They have most of the store marked down. I wish I would have had a little more time there! I may have to go back with this
$10 off $50 purchase printable coupon
valid 8/20-8/26! It's a huge sale! They must be making room for fall winter items. They had a lot of mark downs!
Thanks, Margie, for watching Emma so I could have a day to myself! You are the best!!