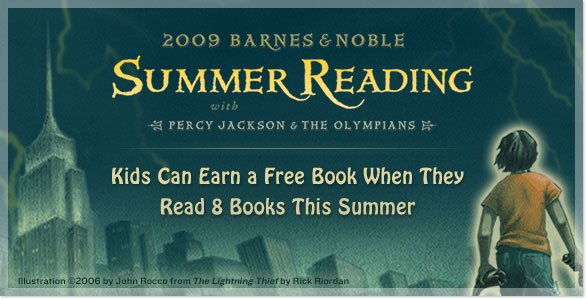 Have your child do the
summer reading program
at Barnes and Noble and they can earn a free book! Visit the website for more details, downloadable journal and activities.
Here's How It Works:

1. Kids read any eight (8) books of their own choosing.
3. Children bring their completed Reading Journal to a
Barnes & Noble store
between May 26th & September 7th, 2009.
4. We'll give them a coupon for a FREE book! They choose from a list of exceptional paperback titles.*
* Eligible books will be listed on the coupon. Choices must be made from available stock. No special orders. Limit of one (1) form per school-age child (grades 1-6), please. Incomplete forms will be ineligible for free books.

Thanks, Making Life Sweet!
Borders is also offering a summer reading program for kids!
here's how it works:
Kids 12 and under read any 8 books.
List the books you've read on the Reading Challenge Worksheet. Have a parent/guardian sign the completed worksheet.
Bring your completed worksheet to any Borders or Waldenbooks store between May 26 and August 31 to save 50% or more on selected items.
Today while I was at Bookmans, I picked up the infor
mation on their summer reading program.

Your child gets a FREE book just for reading ten books!
For each book the child reads at their age level, the child needs to write a paragraph about the book.
With the paragraph include:
Name of Child and age
Name of Book
Author's name
Why you liked the book
Kids can even draw a picture for younger kids! Once they've read their ten books, bring their paragraphs into Bookmans and they'll give you a coupon for $5 to use toward a book, comic or magazine.

Plus don't forget the great program offered at the

Pima County Library

for kids or teens!
We have such a great library system here. If your local library doesn't have it, you can request it. If the county doesn't own the book and it has been out for more than a year, they will search and borrow it from another library participating in the Inter library loan program. It doesn't cost you a cent.
How to participate
Using the Gameboard
Visit your local library and pick up a free gameboard any time between May 21 and July 18.
Start counting the time you spend reading.
Mark your progress on the gameboard.
Every time you read 6 hours, bring your gameboard into any Pima County Public Library and get a prize.
You can also track all the kids progress online this year.
Click here
to visit their website!